Samantha Harris Supermodel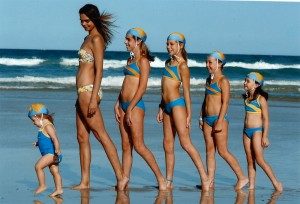 Surfers Paradise Surf Lifesaving Nippers were out in force in the lead-up to the World's Largest Bikini Parade Record attempt. Many of the young Surfers Paradise showed off their stylish Nova Swimwear 100% Chlorine Resistant Two-Piece Swimmers.
The kids stole the show, looking fantastic in their matching swimming uniforms. Super Model Samantha Harris was so impressed with the look and style of the Nova Swimmers that she posed for a photo with the youngsters.
The Nova Togs were generously supplied to the local Surf Lifesaving Club at a discounted rate.
Nova Swimwear has been supplying the Surfer's Paradise Surf Life Saving Club with their high quality team uniforms for the past couple of years.
Nova Swimwear Manager Dennis Mackender said that he was just happy to be able to give something back to the local surf club who have been doing great things in the local Gold Coast community for over 60 years.
Nova Swimwear has been creating and supplying top notch Team Swimwear to Surf Clubs, Swimming Clubs and School Swimming Teams for over 27 years.
Check out Nova's range of chlorine resistant lifestyle swimwear,sleek racing/competition swimmers and a broad range of swimming accessories.
Let Nova Swimwear's decades of experience provide you with the best swimwear solution. Visit our online store at NovaSwimwear.com