Our Nova Ambassadors have been busy!
Ever wondered what REAL athletes and regular water babies think of our products? We have a team of 'testers' who get out there and put our suits through their paces, and they have been very busy!
Check out our Nova Team page and meet them all.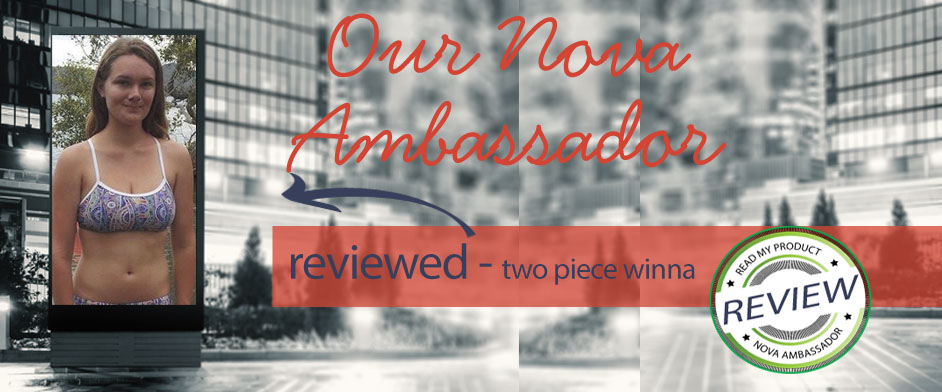 Matt Whitehouse: Latest Review: Mens Titan Brief
The nova swimwear brief Titans are a great pair of swimmers for training in the pool and open water. The cut and quality material make them great in surf and reduce drag in the pool. 10/10. MORE
Savana Brunton: Latest Review: Skimpy Cut Opal
This time I got the Skimpy Cut Opal and it is beautiful. The Bright bold colours and elastic have not faded even after multiple hours in the sun, salt, chlorine and multiple washes. The skimpy cut ensures tan lines are an issue of the past was well as still being practical. I wear them jet skiing, swimming and surfing and they stay through the tough and rumble of anything I put them through. MORE
Jess Errington: Latest Review: Sportique Aqua Palm
Dive into 2016 with the exclusive sportique Neon - bubbles one piece.This generous cut cozzie is perfect for the modest athlete, who doesn't mind a bit of attention with on comers eyes that are attracted to the unique colour pattern. This chlorine resistant costume is perfect for the true swimmer that lies within. MORE
Rachael Witherow: Latest Review: Racing Skin Knee Length
I love my racing skin knee length suit. It a good all round suit but I would recommend downsizing one to two sizes for a really tight fit for competitive racing. It is very comfortable and I received many compliments about how lovely and professional it looked. A good, reliable suit. MORE
Cats Thompson: Latest Review: Knee Length Enforcer
I absolutely love the feel of the knee length "Enforcer". They are very smooth, almost like satin and are so comfortable. The children I teach think the design is really cool and I must say it is a nice change to always wearing black swimwear. Perfect fit and great quality, as always. An absolute winner! MORE
Tanya Revell: Latest Review: Sportique Lima
I chose this design as it looked so bright and happy on the website, and it didn't disappoint! It's unveiling at my 5am squad managed to energise even the sleepiest of swimmers. This suit fits very snugly - and with it's higher back, water doesn't enter the suit on tumbles and push-offs, making it slick in the water. A pleasure to wear! MORE
Michael Boult: Latest Review: Black Jammers
These Nova swimmers are awesome, they fit really well and unlike other jammers where they are loss near my knees, the Nova Jammers fit tight everywhere! I love using them in the surf and they still look as good as new! MORE
Susanna Kitching: Latest Review: Bikini two piece Summa
A classic two piece that measures up to the rigours of long training sessions, and is comfortable through all turns, streamlines and dives. The material is shiny and very sleek. Remember it's a skimpy cut, so if you prefer slightly more modest coverage consider ordering the next size up for extra comfort. MORE