Nova's White Tiger Sportique is Back
That's right!
Limited Time Only – White Tiger print Sportique Swimsuit
Nova Swimwear's extremely popular 'White Tiger' design is back for a limited time only!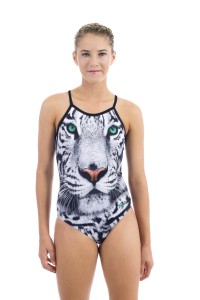 We only have a limited amount of stock for sale and these swimsuits are going to sell out fast! Make sure you get in quick!
The White Tiger is a part of our Sportique Lifestyle Ladies Swiwmear range and was a top seller when it was released last season. The Sportique style is a more fashionable style swimsuit while retaining a 'sporty' look. The Sportique features thin straps for a sharper look, our special binding techniques give the straps a softer feel and less fabric goes into making this garment resulting in a very comfortable swimsuit.
Couple these features with the stunning 'White Tiger' design and it is obvious why this swimsuit was such a hot seller back in 2012.
The 'White Tiger' design is dye sublimated and made entirely from chlorine resistant fabric to provide you with long lasting comfort. The chloroban+ fabric used in all Nova's Lifestyle bathers will provide a longer lifespan for the garment when used in chlorinated water. This means you can swim longer and more often and not have to worry about colour retention or loss of elasticity.
So get in quick to get your hands on this beautiful swimming garment!
Buy the White Tiger Sportique Swimsuit NOW!