Choosing the best swimsuit for you
Which Style Of Nova Swimwear Garment Is Right For You? Have a read of some of our style descriptions. Remember that all of our lifestyle swimwear range is 100% Chlorine Resistant.
Bra Cup: A modest swimsuit which provides great coverage. The Bra Cup style comes with an integrated skirt allowing you to have control over what you want/may not want to be seen.
Cross Back: Very firm fitting garment, works to hold everything right where it should be. If you spend heaps of time out in the rough and tumble of the surf, this can be a handy garment to keep yourself covered.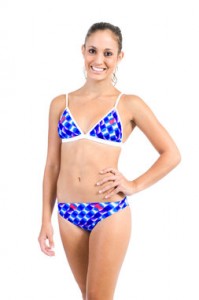 Kazoot: Contains a zipper in the back for a firmer fit and also sits much higher on the neck line than other styles. These suits are made for water polo, the high neck makes it difficult for other competitors to grab around the neck which offers you more protection.
Kini Back: Has a stylish bikini look from the back which also allows for more back tanning. Eliminates the tan lines that can be caused by some other styles. If you find yourself out and about in the sun, or you are trying to eliminate some tan lines but still protect yourself then this is the style for you.
Knee Length: This particular style is ideal for swimming training, racing and also surf lifesaving. If you are involved in swimming competitions or you are right into your water sport, the knee length could be your ideal style.
Shelf Bra: Great for larger bust women by providing outstanding support and also looking fantastic.
Sport Back: Fantastic for swimming training or for use in the pool for the aqua fitness fanatic. The Sport Back is a comfortable garment in any situation.
Sportique: A more fashionable style swimsuit while retaining a 'sporty' look. Sportique features thin straps for a sharper look, our special binding techniques give the straps a softer feel and less fabric goes into making this garment resulting in a very comfortable swimsuit.
T-Back: This garment is very supportive with a tighter fit. The T-Back is very good for water sports, especially water polo.
Two-Piece: Great for surfing, body boarding or just beachwear. Like all our lifestyle garments, they are 100% chlorine resistant so they are fantastic for wearing to the local baths or swimming in the pool at home. Good for any general lifestyle use.
Jammers: Designed to be comfort fitting and are fantastic for beach activities such as swimming, surfing and body boarding. These garments are fast drying, 100% chlorine and UV resistant which also makes them ideal for use in the pool.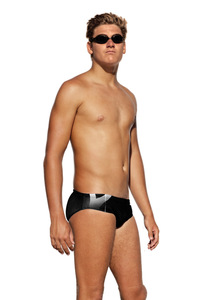 Briefs: Comfort cut that provides a more generous cover (of the personal area) as well as being quick drying and coming at a low and competitive price.
Don't forget, all of our lifestyle swimwear range and the majority of our racing swimwear is 100% chlorine resistant which saves YOU money in the long run by lasting much longer than other swimming garments.
Shop Online for your Swimwear at Nova Swimwear